ASI Chicago 2019 – Stand Out Products
We exhibited at the ASI Chicago 2019 show. Many distributors and suppliers came by for a demo and to see what's new with ZOOMcatalog.
Our team also spent some time walking the show floor. There were many new and exciting products on display. Here are some of our favorites:
QuickFlip Apparel: QuickFlip Hoodies
The large crowd surrounding the QuickFlip apparel booth piqued our interest. Rener Gracie, the founder of QuickFlip Apparel, was there demonstrating his new convertible hoodie.
Rener Gracie, the inventor of the QuickFlip Hoodie, accepted a $500,000 offer from Shark Tank investor, Lori Grenier. Shortly after, Gracie entered the Promotional Product industry as he said he would on his Shark Tank episode.
Using Quickflip's proprietary conversion technology, their line of outerwear options can quickly and easily convert into a drawstring backpack. The best part? There are two unique imprint locations available on every QuickFlip garment – the hoodie AND the backpack.
---
iClick: PopWallet and Iridescent PopSocket Grips
As the sole supplier of PopSockets, the iClick booth was buzzing! With a whole line of new "pop" products, including PopMinis, PopWallets, Vegan Leather and Iridescent PopSockets, it was difficult to choose one item as our favorite. Two that stood out were the PopWallet – a removable wallet (making wireless charging a breeze) with a pop socket on top and the beautiful new Iridescent PopSockets – the traditional design we all know and love with a new finish that really shines.
Check out all of iClicks products in their ZOOMcatalog here: https://viewer.zoomcatalog.com/iclick-2019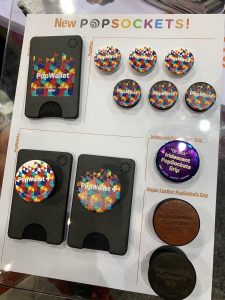 ---
Hyou by SnugZ
This entire line of products was impossible to miss! These fully customizable, full-dye sublimated, and super high-end promotional products are sure to make any brand stand out. From hoodies, to backpacks, to shoes – customize these products however you please with full color imprints. And as if it couldn't get any better, they also come with a one-piece minimum.
Learn more about Hyou by SnugZ in their new 2019 Gift Collection ZOOMcatalog: https://viewer.zoomcatalog.com/snugz-gift-collection-2019-us
---
CreekKooler: Custom CreekKooler
What is better than floating on a lake, enjoying the peace and quiet of nature? Well… having all your favorite food and drinks trailing behind you! The CreekKooler is a cooler that navigates behind your kayak, canoe, SUP or raft, providing easy access to your favorite beverages and food.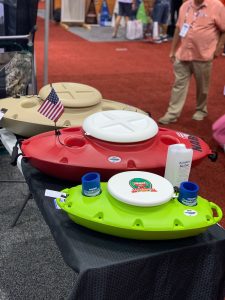 ---
The Webb Collection: Laser Engraved Stainless Steel Straws
Goodbye plastic straws! Reusable stainless steel straws are all the rage, and now you can laser engrave them with your customers' logos – a wonderful promotional product and giveaway. The Webb Collection team engraved straws on location for us and other attendees at the ASI Chicago show.
See these straws in The Webb Collection ZOOMcatalog: https://viewer.zoomcatalog.com/webb-collection-2019/page/2
---
Rustico: Miner Mug
The Rustico booth was one of the most beautifully crafted at ASI Chicago 2019. The Rustico team pointed out some of their top products, and asked us to choose one to feature. Hard choice, but we settled on the Miner Mug. This high-end leather holder is a charming addition to any drink! Constructed using five strong antique brass rivets and accented with a hand-stitched handle, this product is sure to impress with its retail quality appeal.
See the Miner Mug in the Rustico ZOOMcatalog here: https://viewer.zoomcatalog.com/rustico-2019/page/31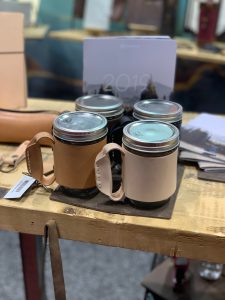 ---
Gordon Sinclair: Mobile Phone Mount
The Gordon Sinclair team showed us a mobile phone mount that they received a lot of positive reactions to. The mount clips to the side of a monitor or laptop, and makes it easy to view both your computer and phone at the same time. The mount also features a large area for a full color logo, putting customer logos front and center.
Check out the product in the Gordon Sinclair ZOOMcatalog here: https://viewer.zoomcatalog.com/gordon-sinclair-new-items-2019/page/42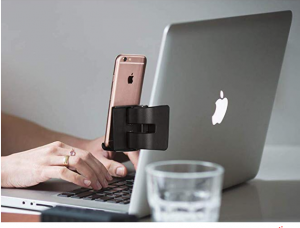 ---
SanMar: Sport-Tek Ladies Triumph Cowl Neck Pullover
This pullover is a top seller from Sport-Tek apparel line from SanMar. This high quality top is one anyone would be excited to receive, and likely to keep in their wardrobe for a long time.Here is SanMar's Sport-Tek ZOOMcatalog: https://www.zoomcatalog.com/catalogs/sport-tek-2019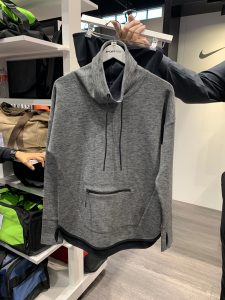 ---
Totally Bamboo: State Shape Cutting Boards
How do you make a plain old cutting board unique? Cut it into the shape of a State and add some landmarks, that's how! Check out these fun bamboo cutting boards from Totally Bamboo.
Here are all the State Shape Cutting Boards in the Totally Bamboo ZOOMcatalog: https://viewer.zoomcatalog.com/totally-bamboo-2019/page/8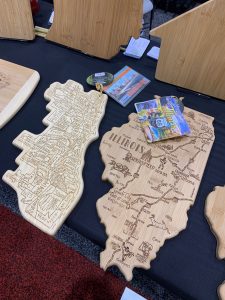 ---
Eyevertising: Blue Light Blocking Glasses
Did you know that the blue light emitted from your computer and phone can cause headaches, eye strain and disrupt your sleep? These imprintable, blue light blocking glasses from eyevertising are perfect for anyone with a phone. So perfect for everyone!
View the Eyevertising ZOOMcatalog here:
https://viewer.zoomcatalog.com/eyevertising-2019-sunglasses-apparel-and-accessories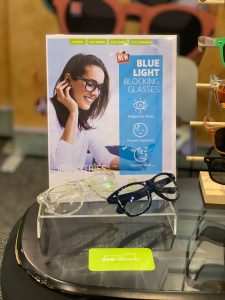 ---
Gemline: Sustainable Products
Gemline's wide range of high-end, retail inspired products were another attendee favorite at ASI Chicago 2019. Rather than focusing on one specific product, we decided to focus on a group of sustainable products they recently added to their line. Pictured here, you can see their Gaia Bamboo Fiber Bento Box, Gaia Bamboo Fiber Cutlery Set, Gaia Bamboo Fiber Tumbler, Reed Stainless Steel Straw Set and their Igloo Legacy Lunch Tote Cooler.
Find these products, and others, in the Gemline Fall Holiday 2019 Catalog: https://viewer.zoomcatalog.com/gemline-fall-holiday-2019-us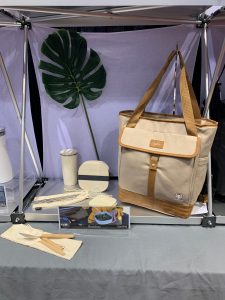 ---
Imagen Brands: EPEX Adventure Products
The EPEX product line features items that will help any outdoor enthusiast have a truly EPIC EXPERIENCE on their next adventure. This line includes items commonly needed when camping, hiking, boating, and more. While we took time to learn about Canyonlands 38oz Tritan Trail Bottle in this video, there are many other amazing adventure items from Imagen Brands.
Check out the whole line of EPEX products in this ZOOMcatalog: https://viewer.zoomcatalog.com/imagen-brands-epex-2019
---
S&S Activewear: Adidas Tech Tee
This new tee from Adidas was an attendee favorite on the S&S Activewear booth. Available for both men and women, as well as in a variety of colors, this versatile shirt if great for events, giveaways, and employees.
Browse S&S's Adidas ZOOMcatalog: https://viewer.zoomcatalog.com/s-and-s-adidas-exclusive-2019-2020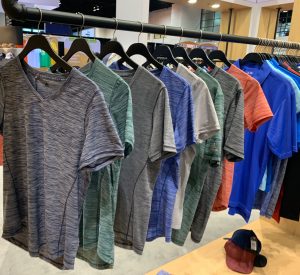 ---
Hirsch Gift: MiniTunes Wireless Speaker
Could this be any cuter? Looks can be deceiving. This tiny wireless speaker from Hirsch Gift has incredible sound. Check out this video to hear it in action!
Check out this product and others in the Hirsch Gift ZOOMcatalog: https://viewer.zoomcatalog.com/hirsch-gift-spring-2019-preview-us/page/6
---
Evans Manufacturing: Speckle-It Camping Mug
A true classic. A product that is great for both the adventurous and the homebod; these speckled, stainless steel mugs sure are trending, and make a great branded gift or giveaway.
Find this product and others in the Evans ZOOMcatalog: https://viewer.zoomcatalog.com/evans-drinkware-2019/page/15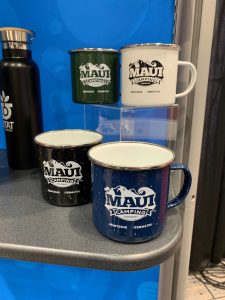 ---
Freaker: Custom Freaker Bottle Insulator
Freaker's beverage insulators keep your drinks cold, your hands dry, and they'll fit anything you want to drink out of. It's truly a one-size-fits-all bottle coolie featuring a super sized imprint area.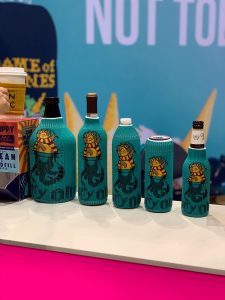 ---
Outdoor Cap: Domestic Patches
Patches are the current trend when it comes to headwear. Outdoor Cap offers custom patches that are sure to make any brand stand out.
See more from Outdoor Cap in their ZOOMcatalog: https://viewer.zoomcatalog.com/outdoor-cap-promotional-collection-stock-and-custom-headwear-2019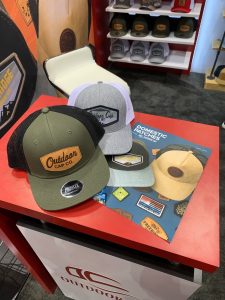 ---
Sole Bicycles: Branded, Custom Bicycles
Design a custom bicycles from the ground up! Perfect for a small business looking to outfit the office with communal transportation or a large corporation looking for a unique and effective marketing tool to engage customers.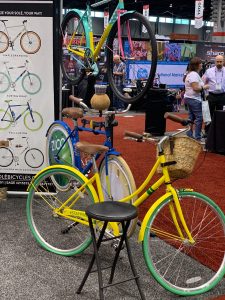 ---
HeadLimes: Beverage Citrus Squeezer
A beer or cocktail served with a HeadLime is so much more engaging, entertaining and memorable then a regular drink. And, they get the lime juice where it's supposed to go… in the Drink. Squeeze the HeadLime and juice drips down the straw directly into your drink, how cool is that?!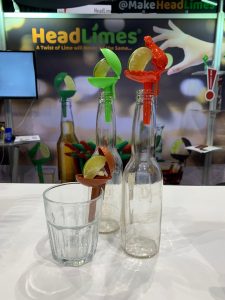 ---
Case-it: Three Inch Binders
What is so exciting about a binder? Well, the fact that almost all elementary and high schools include them on their required school supply list. That means there is a huge opportunity to put your, or your customers brand, on a product that students look at and use almost every day. The binder in this video is a Case-It top seller, including unique organizational features and can be worn as a backpack!
---
Panther Vision: POWERCAP Beanie
Headlamp meets beanie! This convenient hat keeps you warm and lights your way while working or camping outdoors at night. This practical hat also comes as a cap for those warmer nights – great for camping, fishing, running, working and more.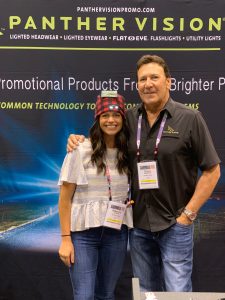 ---
Cannabis Promotions: Custom Grinders
It is hard to deny that the cannabis industry is booming, and in turn so is the demand for branded cannabis related promotional products. These brandable grinders were a hot product on the Cannabis Promotions booth at ASI Chicago 2019 and a great item for dispensaries to both sell or giveaway to increase brand awareness.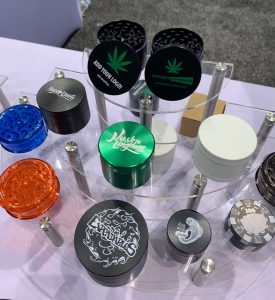 ---
BottleBand: A Handle for Your Bottles
Any bottle, any time – this product makes it easier than ever to carry water with you when you exercise. Simply slide the BottleBand onto any bottle before a run, to make bringing it along a breeze. The large imprint area makes it a great Promotional Product!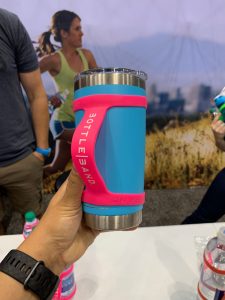 ---
Overall, ASI Chicago 2019 we a great success! With thousands of Promotional Products on display, we definitely did not catch them all. So, what other stand out products and/or suppliers did we miss? Leave your comments below! Also, catch us in January 2020 at the PPAI Expo and ASI Orlando shows.