Holiday Marketing with ZOOMcatalog
Help your customers spread joy this holiday season with promotional products. Branded gifts are the perfect way for companies to say thank you and show appreciation to both employees and customers.
With thousands of products to choose from, your customers need a way to browse options while working with you to find the perfect fit. That is where holiday ZOOMcatalogs and flyers come in. Shopping for corporate gifts has never been easier. Share one, some, or all supplier holiday catalogs with your customers.
Professionally curated supplier holiday catalogs are designed to excite, inspire, and motivate your customers to invest in promotional gifts this season.
Below are tools you can use to share supplier catalogs and flyers with your customers this season digitally.
---
Search, Browse and Share Supplier Holiday Catalogs
All of your favorite supplier holiday catalogs are in one place on ZOOMcatalog, making it easy for you to browse, search, and share products and ideas. Find what you need and send a catalog, a page, or a product from a page in just a few simple clicks.
Note: New holiday catalogs are added every week, so check back often to see what's new.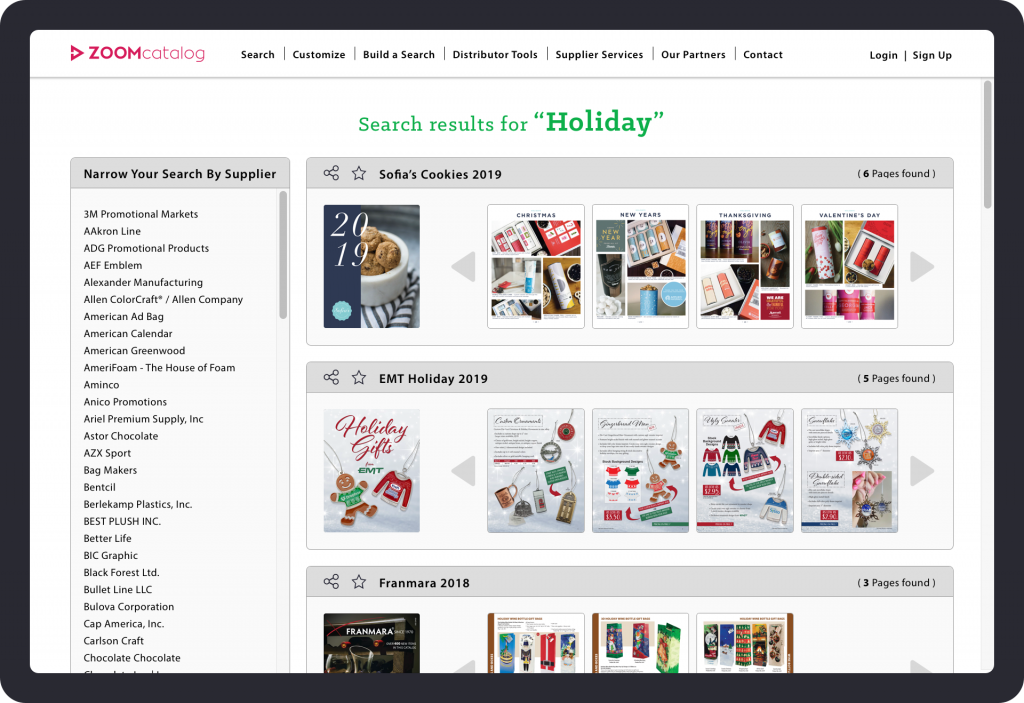 ---
Customize Holiday Catalogs As Your Own
Customize supplier holiday catalogs (and flyers) as your own with your logo and contact information. Customized catalogs are perfect for your website, social media posts, email blasts, blog posts, email signatures, and more.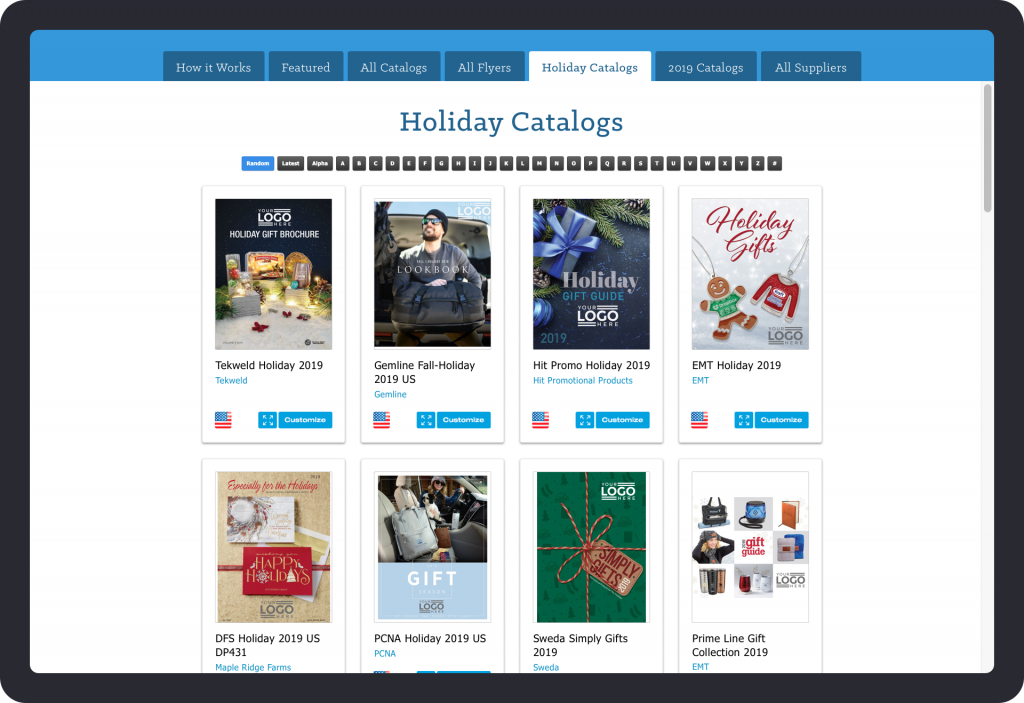 ---
Holiday Catalog Landing Page
Use this landing page to share all supplier holiday catalogs with your customers at once! This white label page is perfect for linking on your website, adding to your email marketing campaigns, posting to social media, including in a blog, and more.
Your customers can use the landing page to browse and search supplier catalogs. As suppliers release their holiday catalogs, they will automatically appear on this page.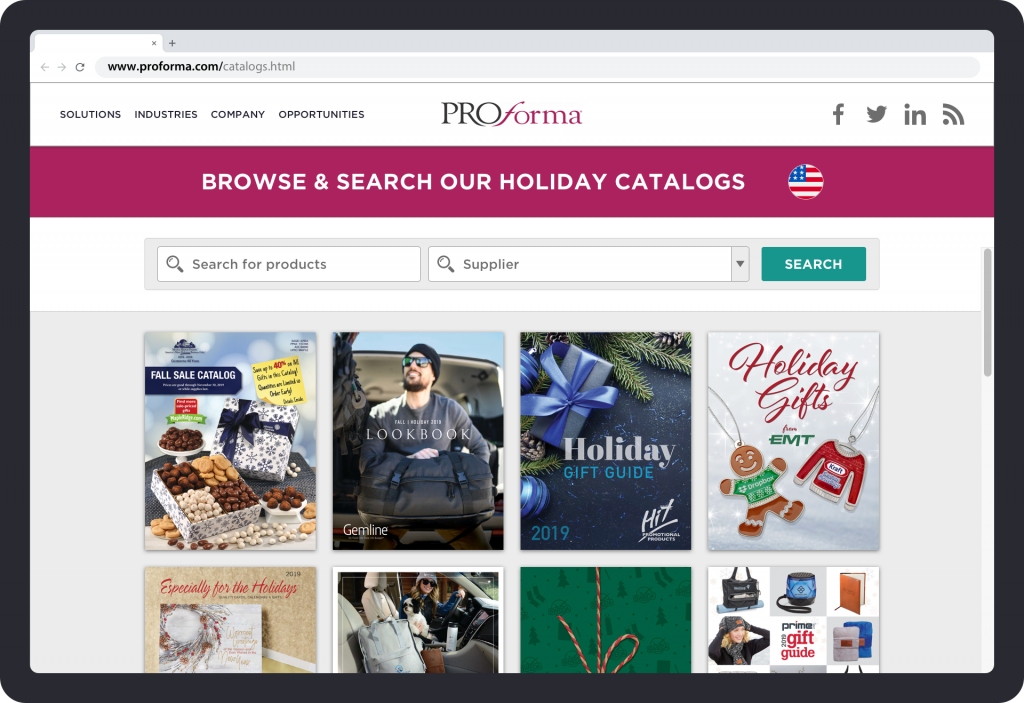 ---
Know When New Catalogs Are Available
Sign up to receive our emails. We send a weekly email with all new supplier catalogs and flyers, including all holiday catalogs added over the next few months. From this email, you can quickly view, share, or customize marketing materials.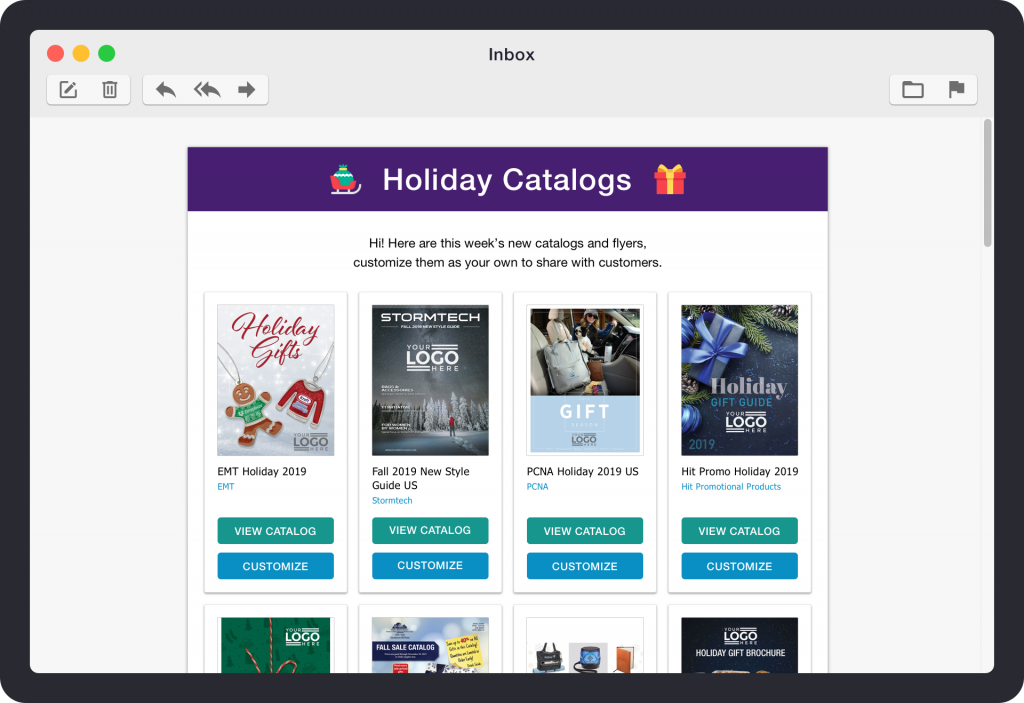 ---
Need Help?
A ZOOMcatalog team member is more than happy to jump on a call to walk you through the tools or answer your questions.
Marketing your ZOOMcatalogs and ZOOMcustom catalogs and flyers is important! Make sure distributors know about these awesome new tools you…