Can you believe 2023 is almost here? Right now we're wrapping up our year like a brown paper package and calculating the top catalogs of 2022. While we go over the hard data, though, we wanted to take a little side trip and pick out the best in shows. The designs that made us go wow. The catalogs that knocked our socks off. 
Once we started, we couldn't stop. Stay tuned for our annual top 20 catalogs of the year, but in the meantime and without further ado…
Best Seasonal Content Series: SS Activewear
Blending the feel of fashion and amazing layouts S&S has really brought it this year with their seasonal style guides. Constantly keeping up with trends and providing new and interesting views. And it isn't just about what is new but it is laid out in a way that ties each vibe together in a very cohesive way. 
Best Niche Content Series: Tekweld
Creating products for niche categories is a more modern approach to providing options. Tekweld has created a series that makes sense for some of the hottest trending industry categories. 
Best Stealable Imagery: Ad n Art
With their retail styling and beautiful lifestyle shots this is one of the most "clippale" catalogs that is available. Clip away and social it up!
Best Faux-Rivalry: Peerless VS Hirsch Merch Madness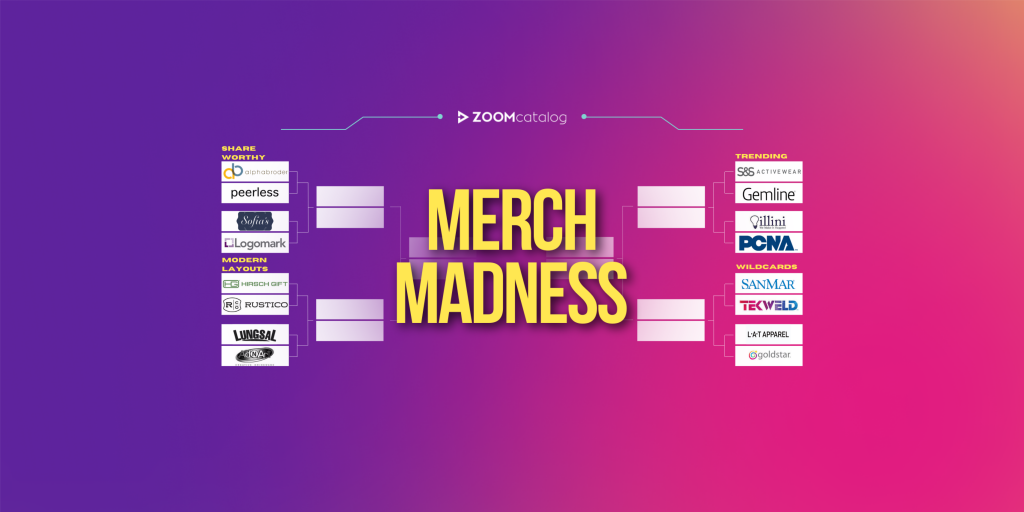 These two powerhouses made it all the way to the final matchup and took to social media with a humorous rivalry that made our March. It was a close race, coming down to the very last minutes, but in the end Peerless pulled ahead. 
Best Digital Enhancement: Gemline
Gemline really brings the shopping experience to their catalog creation. Enhanced with videos, links and every bell and whistle imaginable, it isn't just viewing a catalog it is a shopping experience. 
The Most Cheerful: Illini
We are loving this refreshed layout and design. Illini is showcasing standard products in such an amazingly fun way. Each page is cleanly laid out and easy to read. I think the best part is the beginning showing some of the best options which you can see through the book. 
Best Storytelling: Peerless
With the forward-thinking marketing of Peerless it is really hard not to include them in any favorites list. Our favorite part of this catalog is actually the story in the beginning. We buy from people we like and the first few pages of this catalog gives us so much more information on who Peerless is. 
Best Eco-Focused: Sanmar
Sanmar has elevated the approach to eco apparel and it comes through with their lookbook. Not only showing beautiful styling of each individual piece but also how and why they were created in a sustainable way. 
Best Give Back/B-Corp: Raining Rose
So many great companies are embracing the value of giving back. One of our absolute favorites is the work being done by Raining Rose. Not only as a B-corp but they also use their 2022 catalog to explain the how and why of what they do to be more sustainable. And, they protect the bees!
When it comes to selling your products in an increasingly online world, one of the best things to do as a supplier is create an email…
Marketing your ZOOMcatalogs and ZOOMcustom catalogs and flyers is important! Make sure distributors know about these awesome new tools you…