Catalog Design Trends for 2020
As 2020 approaches, we have compiled a list of the design trends we are expecting to see more of in Promotional Product catalogs.
Retail Feel Look Books
The Promotional Product industry has seen a shift over the last few years towards being more retail-inspired and suppliers are considering ways in which to give their products a more retail look. Subtle product features and special imprint methods give products a more high-end feel, with the idea that with these special touches, more people will want to keep and use them.
The retail trend has also carried over to catalog design. When thinking about design, suppliers are looking for ways to elevate their brand by moving away from basic, cluttered layouts that only show a small product image and a list of details. We are seeing catalogs that give the reader a sense that they are looking at a high-end line of products.
Ways to achieve a retail look include:
Reducing clutter and limiting the number of products per page, which lets readers focus on finding the products they need without feeling overwhelmed.
Adding lifestyle and other photographic images. In fact, using lifestyle images in catalogs has become a trend itself. We have elaborated more on this below.
Reducing the amount of text per product, and per page.
Using colors and fonts carefully and consistently. We recommend sticking to no more than three different fonts throughout your catalog.
Three standout suppliers, who have really embraced the retail trend in their catalog design, are Gemline, Stormtech and PCNA. Their 2019 catalogs exude the retail look, and we are excited to see what they have in store for 2020.
Lifestyle Images
One of the ways in which suppliers are achieving the retail look in their catalogs is by incorporating lifestyle images, and showing one or more products in use or in a setting, rather than the product standing alone with a white background. The lifestyle images are large, personal, engaging, and powerful visuals for the reader to not only see the product, but get a sense for who uses the product and how.
Take a look at how S&S and Gemline use lifestyle images in their catalogs
Breakout catalogs
Every supplier creates a "full-line" catalog – a catalog featuring all the products they carry, that can be extremely helpful when someone wants to understand the full range of products from a particular company. It's a great way for people to browse your full line of products in a single place with very little effort.
In addition to full-line catalogs, over the last few years, we've begun to see more and more "break out" catalogs. These are catalogs that focus on a specific product category, season, vertical market or even price point. They have proven to be a fantastic way to share and market products in a focused and tailored way. In 2020 we will see a lot more suppliers taking this approach.
Browse breakout catalogs from:
Evans Manufacturing
PCNA
SanMar
The Magnet Group
Logomark
Pricing
Pricing has been a hot topic this year due to the changes in tariffs on goods imported from China. This has highlighted the ways in which suppliers think about pricing when it comes to their catalogs. Printing a catalog limits options when it comes to fluctuating prices, however, with the rise in usage of digital catalogs, suppliers now have options.
In 2020 we are going to see more and more suppliers offering two versions of their online catalogs, one with pricing and one without. Distributors have mixed opinions on what is best, so offering the two versions enables distributors to choose whether they share product pricing with their customers or not.
For the catalogs that do include pricing, suppliers are considering ways in which they can keep them up-to-date.
Clean Design Files: The most obvious solution is just to ensure the catalog can be easily edited and resubmitted, and as a result, suppliers are being more strategic with how their catalogs are set up during the design process. Keeping design files clean, pricing on one layer, and not converted to outlines, makes it easy to quickly edit pricing and resave and upload a catalog when a pricing change is necessary.
Pricing Button/links: More creative solutions include adding a button to the pages with a "view pricing" call to action. This button can link to an online price list that is updated regularly, or even to the product pages on a website.
Check out the SanMar catalogs with and without pricing
Video
Video enabled catalogs are here to stay! In 2020, we expect to see more catalogs than ever featuring product videos. Allowing a visitor to watch a video about a product, brand or line from the pages of a catalog helps communicate product features and benefits and show the product in action, which can lead to faster buying decisions. Videos are a powerful tool, videos in catalogs are even more powerful.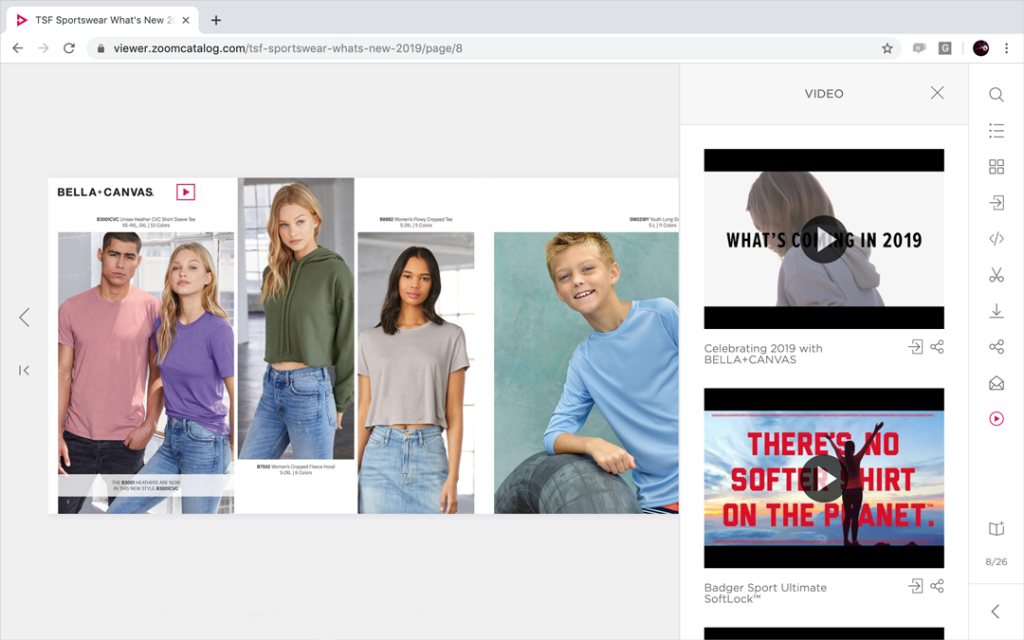 Check out these video enabled catalogs

See all video enabled catalogs here
Optimized for Mobile
Before digital catalogs, catalog design decisions were driven by factors such as page count, postal rates, the size of storage boxes, and printing costs, with the overarching goal of keeping printing and shipping costs down. As a result, designers would try to reduce the catalog size by adding as many products as possible per page, omitting design details, reducing font sizes, and so on.
As more and more people want the ease and efficiency of browsing and searching catalogs online, a trend of designing for mobile has emerged. One must consider what a reader's experience is going to be like on different screen sizes, ranging from large monitors to small cell phones.
In 2020 we expect to see catalog design decisions that support a mobile experience including:
1-3 products per page
Reduced text and larger fonts
Bold headings and titles
White space
High-resolution photography
Overall, in 2020, Promotional Product suppliers are bringing their A game when it comes to catalog design. We are going to see suppliers release lines of targeted, retail inspired, mobile friendly, visually stunning catalogs that distributors will be proud to share with customers.
We sat down with HPG's marketing director, Ben Pawsey for a deep dive into their digital strategies, and we're here to break down three key…
High Caliber Line launched a new ZOOMcatalog, filled with PPE products. Upon launch, hundreds of distributors customized it as their own…