ZOOMacademy – a place to learn and grow in the promotional products industry
Our industry is evolving rapidly. Are you?
From how to build your brand and market your business online, to how to communicate with customers remotely, to designing catalogs for digital – we want to make sure you're always ahead of the pack. That's why we built ZOOMacademy.
We've been publishing content aimed at industry education for a while through our blog, our monthly publication – Trends, and our ongoing webinars. We've helped train new team members, introduce the more experienced to something new, influence supplier and distributor marketing plans, and more.
Our next step takes our educational content to a new level.
With ZOOMacademy, you will be able to access a collection of in-depth, on-demand courses, for free. Covering a broad range of topics, from transitioning your old school road warriors into a digitally equipped sales machines, to building and using your brand. As we grow the library of courses, there will be something for everyone in the promotional product industry.
That's not all! We expedited our plans for ZOOMacademy because of the current impact Coronavirus is having on everyone in the industry. We know these courses will help you and your team, but we also know that many incredibly talented people are now looking for new jobs.
That's why we have decided to create the ZOOMacademy Talent Pool. Industry professionals are invited to submit their resume and create a profile to be listed in our talent pool. The talent pool will be easily accessible to companies in our industry that are seeking new team members. Like all other ZOOMcatalog content, the academy and talent pool will be available to thousands of industry professionals – from suppliers to distributors to multiline reps. If we can help one person find their next role, that's a win for us!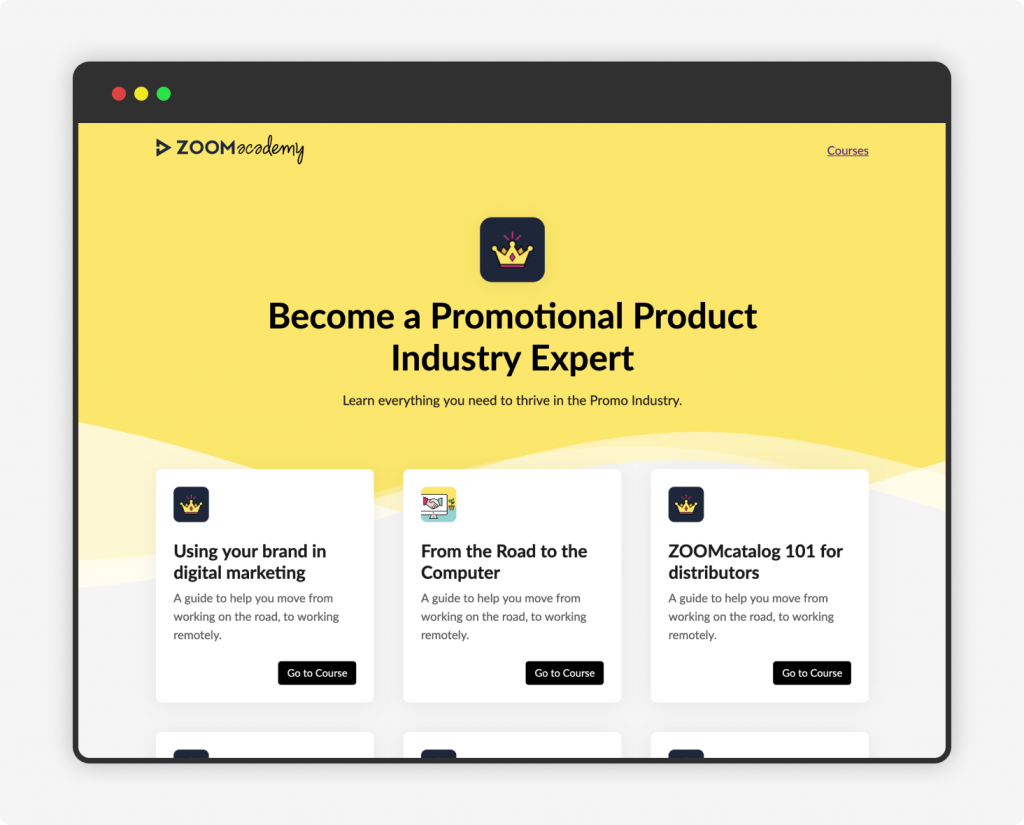 The ZOOMacademy will be available for everyone next week.
If you have any ZOOMacademy questions or thoughts, you can reach out to the ZOOMcatalog team at support@zoomcatalog.com.
High Caliber Line launched a new ZOOMcatalog, filled with PPE products. Upon launch, hundreds of distributors customized it as their own…