ZOOMcatalog attends the 2019 PPAI North American Leadership Conference and Tech Summit in Dallas
Noleen and Bryony Zasman, co-founders of ZOOMcatalog, attended the PPAI NALC and Tech Summit in Dallas from August 11th to August 15th, 2019.
AWARDS AND RECOGNITION
The conference kicked off with a welcome dinner held in the gardens of the Omni Mandalay Hotel in Las Colinas, where Bryony and Noleen spent time catching up with friends and colleagues. Traditionally, the annual recipients of the Rising Stars are announced and celebrated at this opening dinner. Switching things up for this year's summit, the awards were presented by the critically acclaimed comedy improv group, Four Day Weekend. 
ZOOMcatalog would like to congratulate all the Rising Stars that were honored!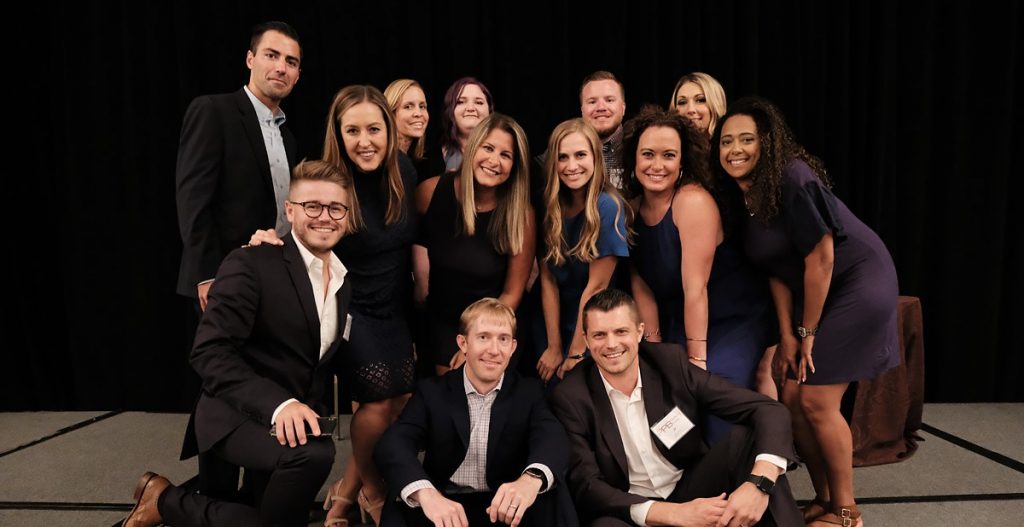 Monday's program started off by recognizing a number of award winners in our industry.
Congratulations to Carl Gerlach, MAS, and Roni Wright, MAS, for being selected to be inducted into the Hall of Fame at the 2020 PPAI Expo in Las Vegas in January.  Your contributions to our industry are exemplary and you both set the bar pretty high!  Additional congratulations to Rick Brenner, MAS and Kippie Helzel, MAS who are the PPAI's 2020 Distinguished Service Award Recipients.  
Last, but certainly not least, our friend and mentor, Rod Brown, CAS, was named 2020 PPAI H. Ted Olson Humanitarian Award Recipient.  Rod, the founder of the California- based distributorship, Made To Order, volunteers extensively outside of the promotional product Industry, working tirelessly to improve the lives of severely disadvantaged people.  Rod, through an affiliation with his church, builds houses for the displaced on the outskirts of Tijuana.
On top of that, "Currently Brown is actively organizing a fifth trip to Africa with a film crew to create a short documentary highlighting the plight of the hunted albino orphans, who are often butchered to create 'potions' believed to give virility and long life. To learn more about the documentary and this pursuit, click here to watch the video." Read the full article in the Promomarketing Magazine
Thank you, Rod, from all at ZOOMcatalog, for your tireless work in disadvantaged communities. You are a true inspiration to others, and a fine gentleman!
NALC PRESENTATIONS AND EVENTS
This year, the NALC committee, consisting of PPAI staff and industry volunteers, set new standards in creating  a wonderfully informative, inspirational, and educational mix of speakers. Over the next few days Bryony and Noleen found themselves inspired and energized by the program quality and enthusiasm of the speakers.
Keynote speaker John Beede kicked off the NALC and spoke about Leadership Lessons from Mt. Everest. John believes that anyone can accomplish anything through sheer grit and determination, which was the focus of his presentation.  We learned about risk reduction, team decisiveness, overcoming doubt, and communication – both listening and hearing – and in turn, serving. He definitely gave all of us attendees pause for thought!
On day two, before the conference started, Noleen and Bryony had the pleasure of enjoying a meal with Gary Garfield, the now retired Chairman, CEO and President of Bridgestone Americas, Inc.  Gary asked about our story and how we felt the industry is changing. Of course, the conversation focused on the shift from print to digital and how the adoption of new technologies is changing the way suppliers and distributors conduct business. Later on, Gary spoke to the attendees about his job as CEO of Bridgestone, America, a $15B company with 55,000 employees worldwide.  He was tasked to make radical changes to the struggling organization, which successfully resulted in record profits year after year of his tenure. He explained his approach to how he did this, and how he managed to reach a 500% improvement in profitability in six years. 
Gary achieved his success at Bridgestone by focusing on:
Leadership

Vision

Culture

People

Internal Alignment

Focused Execution
These are all key factors in running a company today, and his history and success underscores their importance to company leadership.
After a jam packed two days of networking, inspiration, and fun, attendees of the PPAI TechSummit arrived, and everyone from both conferences headed out to the AT&T Stadium in Arlington for some fun on the field.
PPAI TECH SUMMIT HIGHLIGHTS
Bryony then stayed on for the PPAI Tech Summit, while Noleen headed back to Boulder, Colorado – home base of ZOOMcatalog.
The Tech Summit is an event that is always held in conjunction with the NALC, but with a different audience – the technology geeks that make magic happen behind the scenes in our industry. Responsible for managing the ZOOMcatalog product and development teams, Bryony was right at home with this IT crew.
The presenters at the Tech Summit focused on technology issues, challenges and ideas impacting the promotional products industry today and in the near future.
The first general session, by Wayne Reynolds, was about IT security, and how the danger of cyber threat is real, dynamic and persistent. Wayne explored ways in which companies can protect themselves and mitigate threats, and emphasized the importance of not only implementing precautions, but also educating team members about ways to identify and avoid potential security breaches. 
The general session on the second day  by Scott Berinato, called "Clear, Persuasive Stories, Presented Well", was another eye-opening session. Scott spoke about what makes a "good chart" and how to present data and information in a way that is impactful and easily understood. We looked at real world data charts and the small changes you can make in presenting the data, that make a big overall impact on how a viewer may infer what it is you are trying to communicate. The simple, yet powerful techniques taught in this session can help anyone take their presentations to the next level.
THANK YOU PPAI
Overall, Bryony and Noleen enjoyed the NALC and PPAI TechSummit and look forward to attending again next year.
We would like to thank the PPAI staff and the team of volunteers who gave so freely of their time to make the NALC 2019 and Tech Summit so memorable.
The NALC Work Group
Andrea Kramer

(City Apparel) 

Brian Porter

(Starline)

Britney Godsey

(Gold Bond)

Dan Pantano (alphabroder)

Dave Regan

(The Vernon Company)

Eric Alessi

(Essent Corporation)

Eric Schonebarger

(Hit Promotional Products)

Jeff Lederer

(Prime Line)

Joan Landorf

(Axis Promotions)

Kellie Claudio

(Sweda)

Lori Bauer

(BIC Graphic USA)

Lisa Lemond

(Imagen Brands)

Terry McGuire

(Halo Branded Solutions)
The Tech Summit Work Group
Dino Bangiorno

, MAS (EXtendTech)

Dale Denham

, MAS+ (Geiger)

David Gallant

(Gemline)

David Jackson

(Sweda)

Ajay Kaul

(SanMar)

Mike Knapick

(SanMar)

David Natinsky

, MAS (SAGE)

Marc Sule

(alphabroder)

Jonas Temple

(The Magnet Group)

Jon Norris

(Starline USA)